Hi Everybody, My name is Roland Han. I am a humble and highly motivated individual who aspire to help you find your dream home. My moto is to focus on your needs and to exceed your expectations so that after meeting me, you will not need to look for another agent again.
I have a Bachelor of Engineering (Electrical and Electronics) from the National University of Singapore. I also graduated at the top of my class for my EMBA from the University of New York at Buffalo with a GPA of 3.83.
Yet, when you talk to me, I assure you that you will find that I am a down to earth person without airs.
People often comment that I smile a lot. I assure you I am also very calm under intense pressure.
I hope you will give me a chance to show my sincerity in serving your needs.
My Contact:
Mobile: +65 9623 1357
Email: Roland@rolandhan.com

Website: roland.han.virtualhomes.sg
Office:
KF Property Network Pte Ltd

491B River Valley Road #07-02 Valley Point

Singapore 248373

Main Tel: +65 6372 7333

Fax: +65 6372 7300
I look forward to hearing from you ....

Here are some commendations from my customers:
Quote 1:
For the attention of: Manager, Admin & Customer Service
Roland Han
Roland Han was introduced to me by a colleague in my office. He helped my wife and I find the condo we are now living in (at Casa Merah). During the time that we were looking for a place to live, Roland was extremely kind and helpful. He listened carefully to our needs and created a viewing schedule that w
Property Type: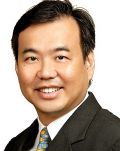 Posted on 12 June, 2019
by Mr Roland Han


+65 - 9623XXXX

+65 - 96231357
SGD 2,800 ($2 psf) (Negotiable)
SGD 1,805,000

($1,678 psf)
Built Year: Under Construction
Furnished: No
SGD 2,530,000

($2,175 psf)
Built Year: 2017
Furnished: Partial
SGD 3,575,000

($2,244 psf)
Built Year: 2017
Furnished: No